If you're as excited as we are about the fall weather in Sarasota, then you're in for a treat. With its warm autumn days and cool evenings, Sarasota is the perfect place to get into the pumpkin spirit. And what better way to embrace the season than by visiting a charming Sarasota pumpkin patch?
We've rounded up the best spots and fun fall things to do in Sarasota, where you can pick the perfect pumpkin, sip on apple cider, and create unforgettable memories with your loved ones while staying in one of our Sarasota rentals!
Fruitville Grove
First up is Fruitville Grove, a local gem that knows how to do fall right! As you arrive, you'll be greeted by rows upon rows of bright orange pumpkins just waiting for their new homes. Grab a wagon and embark on a pumpkin-picking adventure with the family.
Let the little ones roam free in the designated play area, complete with bounce houses and a pumpkin maze that'll challenge even the most adventurous kiddos. Don't forget to strike a pose at their cute photo spots featuring giant pumpkins and scarecrows. And when you've worked up an appetite, savor some delicious fall treats, like homemade pumpkin pie, candied apples, and freshly pressed apple cider, that'll warm your heart and leave a smile on your face all day long!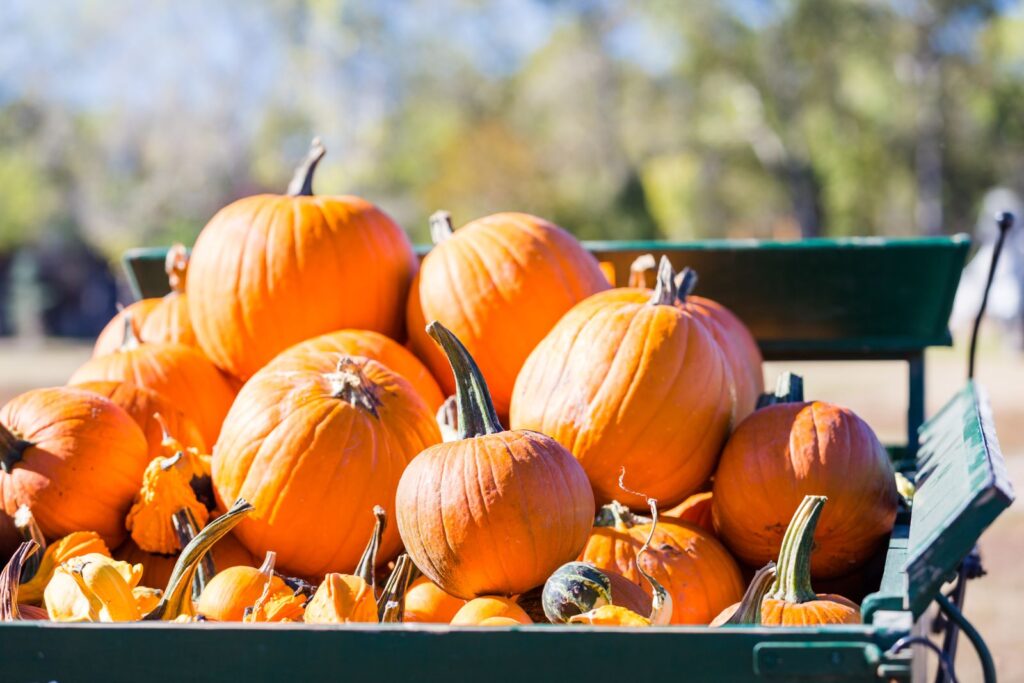 Hunsader Farms
Next, we're off to Hunsader Farms, where pumpkins and festivities collide to create the ultimate family-friendly experience. Every year, Hunsader Farms hosts the best Pumpkin Festival Sarasota has ever seen! Picture this: acres of pumpkins as far as the eye can see, tractor-pulled hayrides that'll make you feel like a kid again, and even a petting zoo where you can cuddle adorable farm animals.
Challenge your friends to a game of cornhole or try your hand at the pumpkin catapult – it's harder than it looks! And if you're looking for some delicious fall snacks, their food vendors serve up classic festival fare that'll leave your taste buds dancing with joy. Make sure to visit the craft booths where local artisans showcase their handmade goodies, perfect for finding unique gifts or souvenirs!
Pumpkin Patch Express
For a unique pumpkin-picking adventure, hop aboard the Pumpkin Patch Express. This family-friendly train ride takes you on a scenic journey through the countryside, with picturesque views of Florida's fall foliage.
As you chug along, keep an eye out for playful wildlife – you might spot a few feathered friends or curious critters along the way. When you arrive at the pumpkin patch, you'll find rows of pumpkins just waiting to be chosen.
It's like a treasure hunt for the perfect pumpkin! Kids will love exploring the mini-maze and playing games, while parents can capture the moment with stunning photos of their little ones amid the pumpkin patch beauty. Afterward, jump back on the train for a leisurely ride, savoring the scenic landscapes and the warm Florida sunshine.
Our Sarasota Vacation Rentals
Now that you've filled your day with pumpkin-filled adventures, it's time to kick back and relax in one of our Sarasota vacation rentals. Imagine coming back to a cozy home away from home, where you can sip on hot cocoa and reminisce about your pumpkin-picking escapades. 
From fully-equipped kitchens for whipping up all your favorite fall meals to spacious living areas where you can unwind and relax with the whole family, we have the Sarasota vacation rental for your next getaway. Plus, many of our properties boast lovely outdoor spaces, perfect for enjoying the cool Sarasota evenings and maybe even roasting marshmallows over a bonfire!
So don't wait and book your Gulf Coast vacation rental with us today, and start planning a fall adventure like no other!